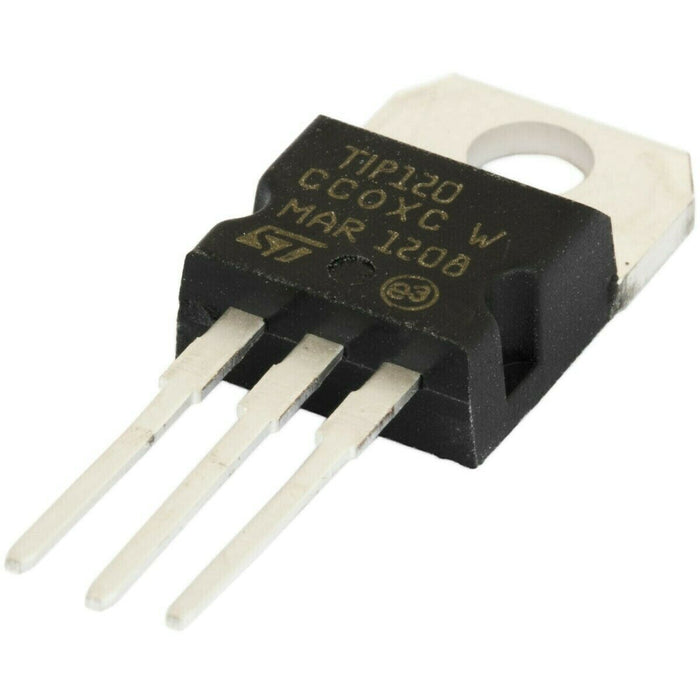 TIP120 BJT Power Darlington Transistor NPN TO220
Description:

TIP120 Darlington transistor, a component that can easily provide you with much higher current gain values. This Darlington transistor array's maximum emitter base voltage is 5 V. This product's maximum continuous DC collector current is 5 A, while its minimum DC current gain is 1000@0.5A@3 V|1000@3A@3V. 
It has a maximum collector emitter saturation voltage of 2@12mA@3A|4@20mA@5A V. Its maximum power dissipation is 2000 mW. In order to ensure parts aren't damaged by bulk packaging, this product comes in tube packaging to add a little more protection by storing the loose parts in an outer tube. It has a maximum collector emitter voltage of 60 V and a maximum emitter base voltage of 5 V. This Darlington transistor array has an operating temperature range of -65 °C to 150 °C.
The TIP120 are manufactured in planar technology with a base island layout and monolithic Darlington configuration. The resulting transistors show exceptional high gain performance coupled with very low saturation voltage.
Included:
This item features:
Low collector-emitter saturation voltage
General purpose linear and switching
Thermal overload protection
Short circuit protection
Output transition SOA protection
Condition:
New and Authentic Component(s) - 

TIP120 BJT Power Darlington Transistor NPN TO220AB IC

Friendly Note: Be mindful of the many, inexpensive, counterfeits available on the market.
General details:
We are expanding on a daily basis. If you do not see the part, or quantity of the part, you are looking for, please, let us know.

 

We will do our best to accommodate you.