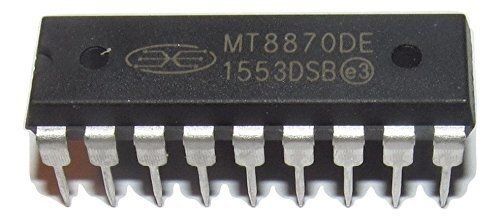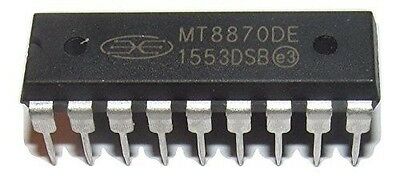 MT8870DE MT8870 - Integrated DTMF Receiver IC
Description:
The MT8870DE is a complete DTMF receiver integrating both the band-split filter and digital decoder functions. The filter section uses switched capacitor techniques  or high and low group filters; the decoder uses digital counting techniques to detect and decode all 16 DTMF tone pairs into a 4-bit code. External component count is minimized by on chip provision of a differential input amplifier, clock oscillator and latched three-state bus interface.
Included:
This item features:
Internal gain setting amplifier

Adjustable guard time
Power-down mode

Inhibit mode

Backward compatible with MT8870C/MT8870C-1
Condition:
New and Authentic Component(s) - MT8870D-1 Integrated DTMF Receiver IC.

Friendly Note: Be mindful of the many, inexpensive, counterfeits available on the market.
General details:
We are expanding on a daily basis. If you do not see the part, or quantity of the part, you are looking for, please, let us know. We will do our best to accommodate you.