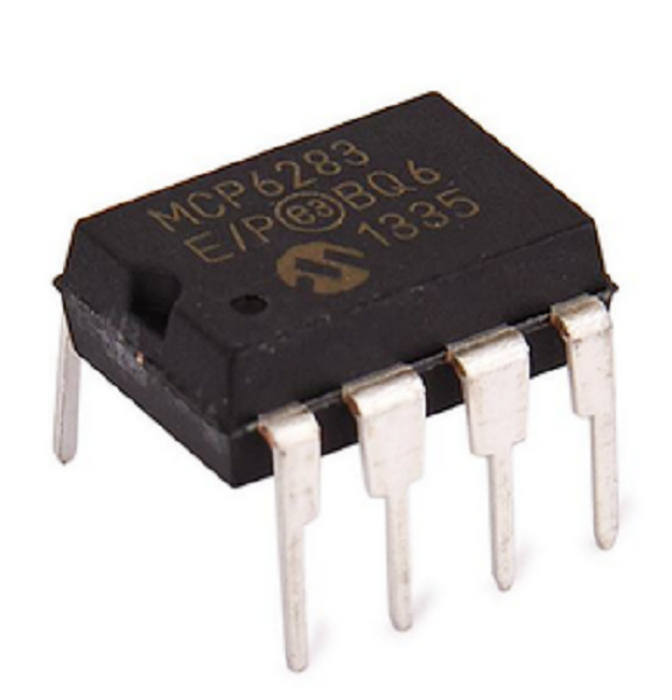 MCP6283-E/P MCP6283 450 µA, 5 MHz Gain Bandwidth Rail-to-Rail Op Amp Operational Amp DIP-8 Breadboard-Friendly
Description:

The MCP6283 operational amplifiers (op amps) provide wide bandwidth for the current. This MCP6583 has a 5 MHz Gain Bandwidth Product (GBWP) and a 65° phase margin. The MCP6283 also operates from a single supply voltage as low as 2.2V, while drawing 450 µA (typical) quiescent current. Additionally, the MCP6283 supports rail-to-rail input and output swing, with a common mode input voltage range of VDD + 300mV to VSS – 300 mV and is designed with Microchip's advanced CMOS process. The MCP6285 has a Chip Select (CS) input for dual op amps in an 8-pin package. This device is manufactured by cascading the two op amps (the output of op amp A connected to the non-inverting input of op amp B). The CS input puts the device in Low-power mode. The MCP6283 operates over the Extended Temperature Range of -40°C to +125°C. It also has a power supply range of 2.2V to 6.0V.
Included:
This item features:
Input Offset Voltage: ±3 mV (max)
Quiescent Current: 445 µA (typical)
Common Mode Rejection Ratio: 65 dB (typical)
Power Supply Rejection Ratio: 70 dB (typical)
Rail-to-Rail Input/Output
Supply Voltage Range: 2.2V to 6V
Gain Bandwidth Product: 5 MHz (typical)
Slew Rate: 2.5V/µs (typical)
Unity Gain Stable
Chip Select/ Shutdown feature available on the MCP6283
Extended Temperature Range: -40°C to +125°C
Condition:
New and Authentic Component(s) - MCP6283-E/P MCP6283 5 MHz Gain Bandwidth Operational Amplifier.
Friendly Note: Be mindful of the many, inexpensive, counterfeits available on the market.
General details:
We are expanding on a daily basis. If you do not see the part, or quantity of the part, you are looking for, please, let us know. We will do our best to accommodate you.