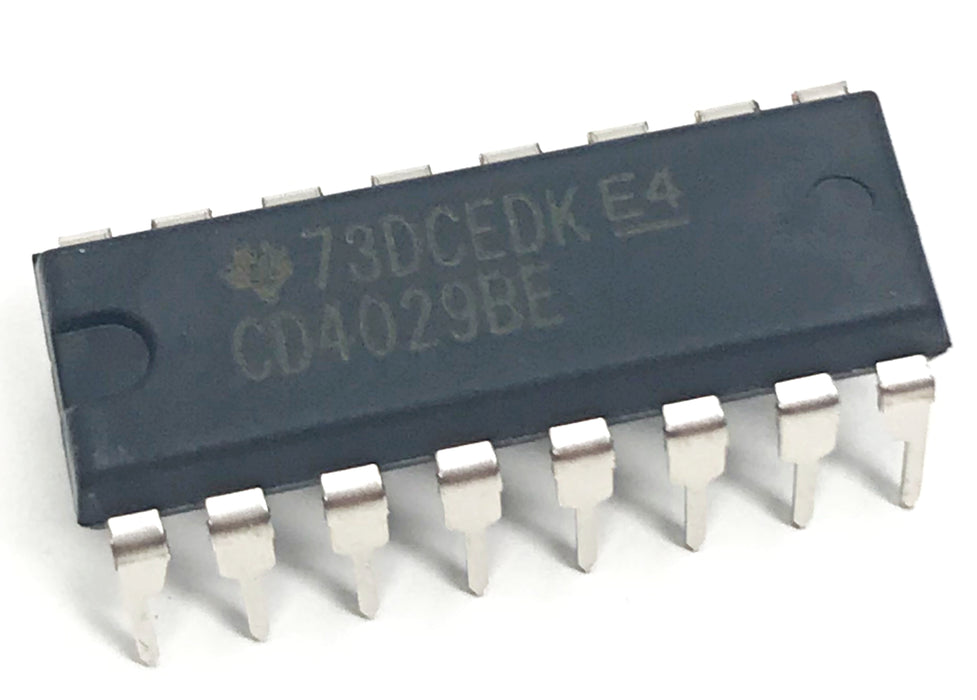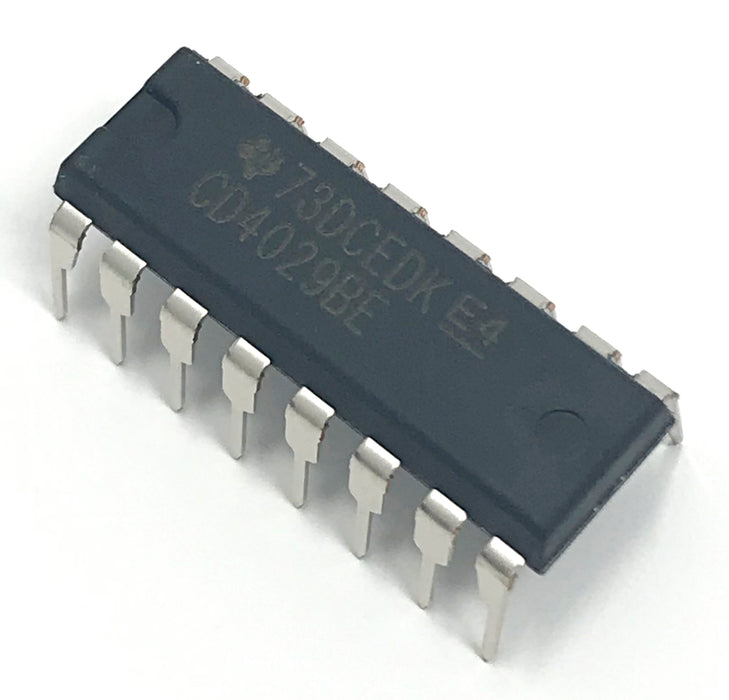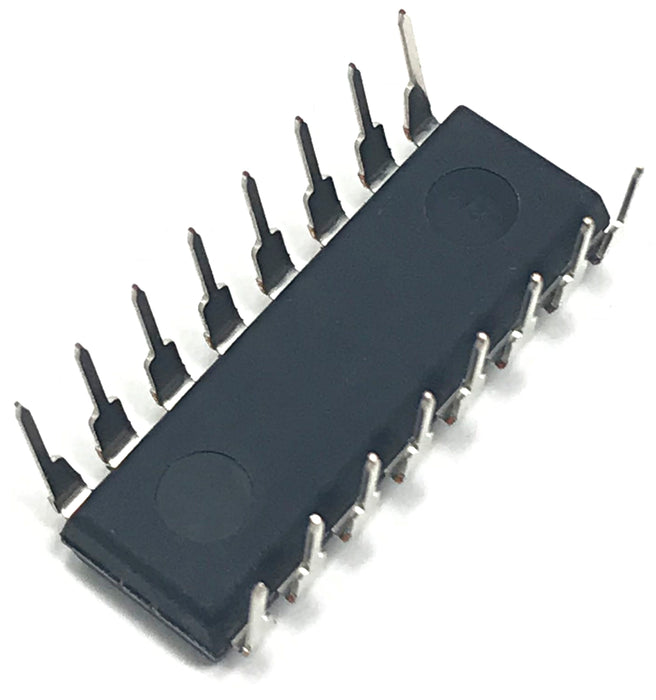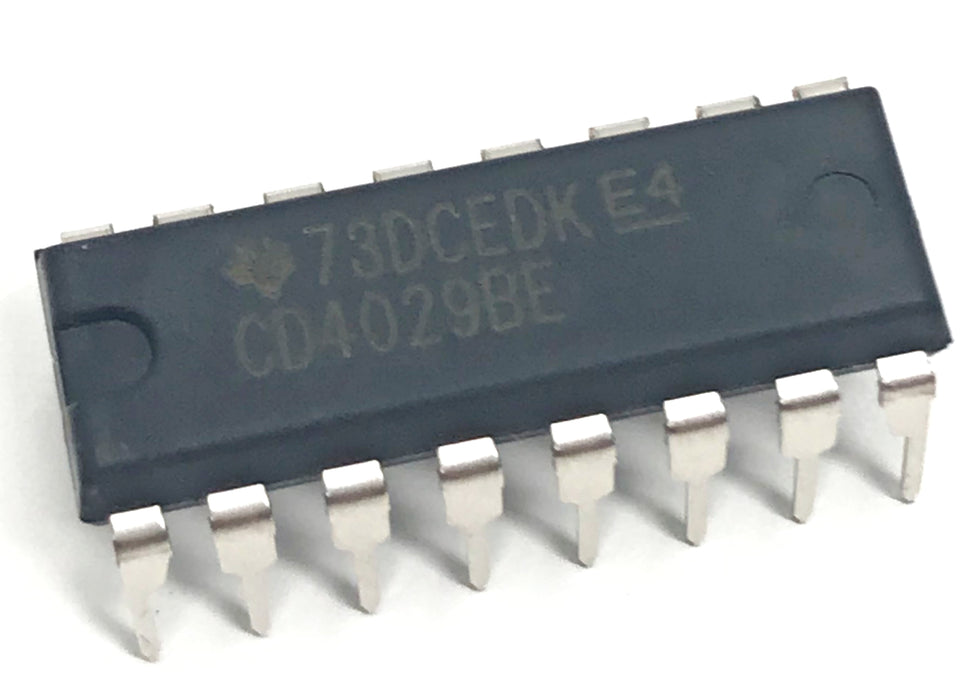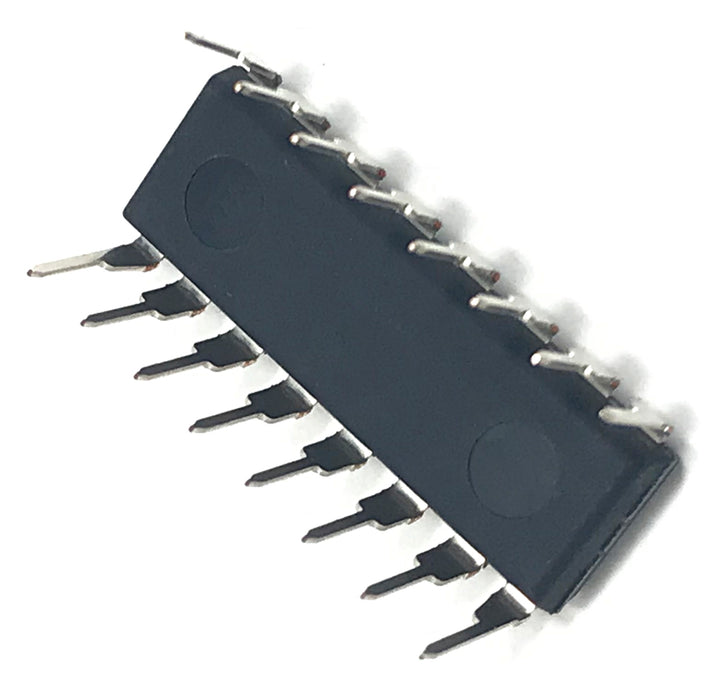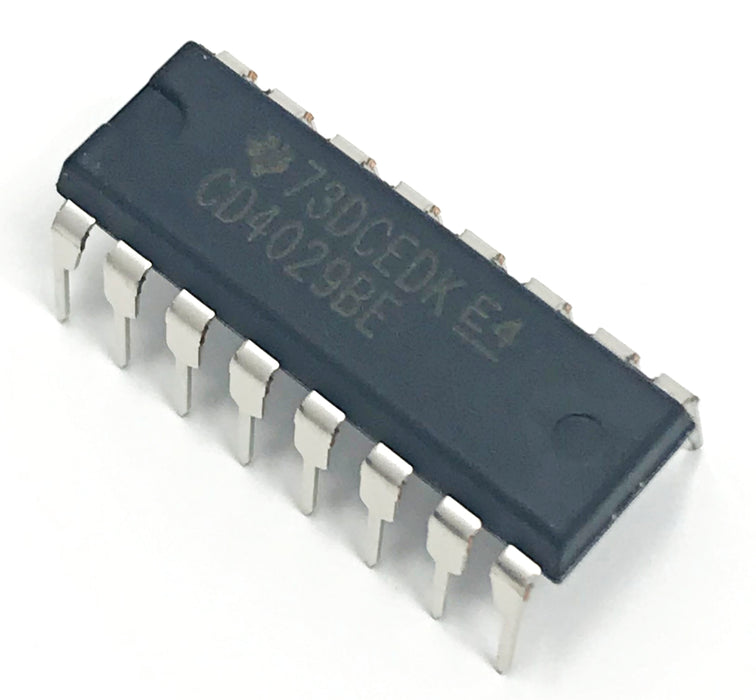 CD4029BE CD4029 CMOS Presettable Up/Down Counter
Description:
The CD4029B consists of a four-stage binary or BCD-decade up/down counter with provisions for look-ahead carry in both counting modes. The inputs consist of a single CLOCK, CARRY-IN\ (CLOCK ENABLE\), BINARY/DECADE, UP/DOWN, PRESET ENABLE, and four individual JAN signals, Q1, Q2, Q3, Q4 and a CARRY OUT\ signal are provided as outputs.
A high PRESET ENABLE signal allows information on the JAM INPUTS to preset the counter to any state asynchronously with the clock. A low on each JAM line, when the PRESET-ENABLE signal is high, resets the counter to its zero count. The counter is advanced one count at the positive transition of the clock when the CARRY-IN\ and PRESET ENALBE signals are low. Advancement is inhibited when the CARRY-IN\ or PRESET ENABLE signals are high. The CARRY-OUT\ signal is normally high and goes low when the counter reaches its maximum count in the UP mode or the minimum count in the DOWN mode provided the CARRY-IN\ signal is low. The CARRY-IN\ signal in the low state can thus be considered a CLOCK ENABLE\. The CARRY-IN\ terminal must be connected to VSS when not in use.
Binary counting is accomplished when the BINARY/DECADE input is high; the counter counts in the decade mode when the BINARY/DECADE input is low. The counter counts up when the UP/DOWN input is high, and down when the UP/DOWN input is low. Multiple packages can be connected in either a parallel-clocking or a ripple-clocking arrangement as shown in Fig. 17.
Parallel clocking provides synchronous control and hence faster response from all counting outputs. Ripple-clocking allows for longer clock input rise and fall times.
Included:
This item features:
Medium-speed operation… 8 MHz (typ.) @ CL = 50 pF and VDD–VSS = 10 V
Multi-package parallel clocking for synchronous high speed output response or ripple clocking for slow clock input rise and fall times
"Preset Enable" and individual "Jam" inputs provided
Binary or decade up/down counting
BCD outputs in decade mode
100% tested for quiescent current at 20 V
5-V, 10-V, and 15-V parametric ratings
Standardized, symmetrical output characteristics
Maximum input current of 1 µA at 18 V over full package-temperature range; 100 nA at 18 V and 25°C
Noise margin (full package-temperature range) =
        1 V at VDD = 5 V
        2 V at VDD = 10 V
     2.5 V at VDD = 15 V
Applications:

Programmable binary and decade counting/frequency synthesizers-BCD output
Analog to digital and digital to analog conversion
Up/Down binary counting
Magnitude and sign generation
Up/Down decade counting
Difference counting
 Condition:
New and Authentic Component(s) - CD4029BE

CMOS Presettable Up/Down Counter

ICs.

Friendly Note: Be mindful of the many, inexpensive, counterfeits available on the market.
General details:
We are expanding on a daily basis. If you do not see the part, or quantity of the part, you are looking for, please, let us know. We will do our best to accommodate you.