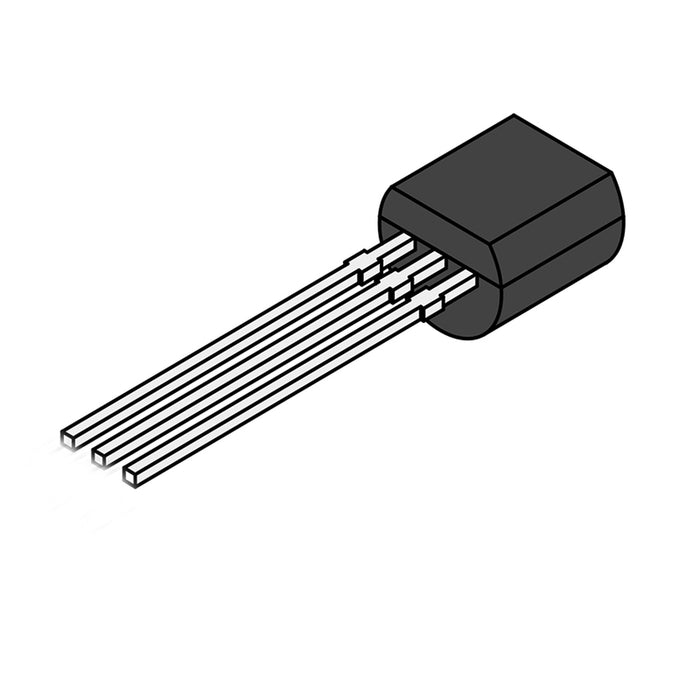 2N3906 Bipolar (BJT) Single Transistor, High Speed Switching, PNP, 40 V, 250 MHz, 625 mW, 200 mA, 100 hFE TO-92
Description:

The ON Semiconductor 2N3906 

transistor is a silicon epitaxial planar PNP general purpose amplifier and switch. The useful dynamic range extends to 100 mA as a switch and to 100 MHz as an amplifier with a 

200mA Collector Current (Continuous).
Included:
This item features:
Professional Quality, Long Life, ON Semiconductor/Fairchild Components. High-Grade Transistors unlike many inferior generic transistors commonly found on the market.

Dynamic range of 100 MHz
Switching and Amplifier
PNP General Purpose Amplifier
Small load switch transistor with high gain and low saturation voltage
Collector emitter voltage (Vce) of 40V
Continuous collector current (Ic) of 200mA
Power dissipation of 625mW
Operating junction temperature range from -55°C to 150°C
DC current gain is greater than 30A at Ic=100mA
 Condition:
New and Authentic Component(s) - 

2N3906 PNP

 general purpose amplifier and switch

 transistors

.

Friendly Note: Be mindful of the many, inexpensive, counterfeits available on the market.
General details:
We are expanding on a daily basis. If you do not see the part, or quantity of the part, you are looking for, please, let us know. We will do our best to accommodate you.